Windows 101
When selecting the right windows for your project, there's a lot more to consider than just measurements. With so many options available, it's important to be familiar not just with designs, but also the components and energy-saving features that go into building the perfect fit. Let's shed some light on the basics: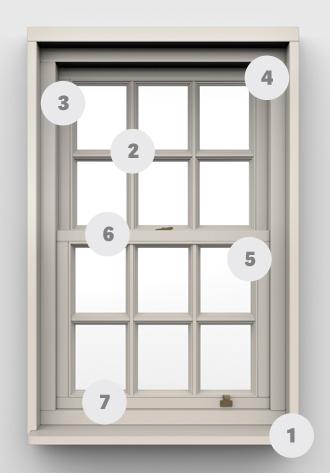 Anatomy of a Window
1 - Frame/Jamb


The outer structure of a window that holds the sash in position.



2 - Divided Lite


Decorating grids either between the glass or on the surface provide the appearance of separate window panes.



3 - Stile


The vertical sections of the sash.



4 - Upper Sash


The upper assembly of stiles and rails forming the framework. The upper sash will slide up and down in a double-hung window, but will not move in a single-hung window.



5 - Lower Sash


The lower assembly of stiles and rails forming the framework.



6 - Rail


The horizontal section of the sash.



7 - Sill


The horizontal member that forms the bottom of a window frame.
LEARN ABOUT OUR WINDOW CAPABILITIES
Let the light shine through, along with ideas and inspiration by visit our online Windows experience.
---
Window Styles

Single-hung windows
Single-Hung windows feature a lower sash that slides vertically to open.

Casement Windows
Casement windows are hinged at the side and swing out to open.

Double-Hung Windows
Double-Hung windows can be raised from the bottom or lowered from the top.

Awning Windows
Awning windows are hinged at the top and open from the bottom and swing out.

Sliding Windows
Sliding windows have one or more sliding sashes, and open horizontally (side-to-side).

Fixed Geometric/Radius
Geometric windows are available in many different shapes and generally do not open.

Bay/Bow Windows
Bay windows feature several windows with angled sides, maximizing the view and opening outward.
---
Window Material
Aluminum
Aluminum windows are a lightweight, yet strong alternative to more expensive wood windows. They are corrosion-resistant and offer great performance in many climates.


Vinyl
Vinyl windows are constructed from durable plastics and are energy efficient. They don't ever require painting because they don't fade, peel, or rot.


Wood
Wood windows provide a wealth of natural beauty, but require more maintenance than aluminum or vinyl windows. Each species of wood features a range of characteristics offering detailed touches of warmth and elegance.


Clad-Wood
Clad-wood windows are simply wood windows protected with a layer of metal. They require very little maintenance due to the fact that exterior painting or finishing is not necessary.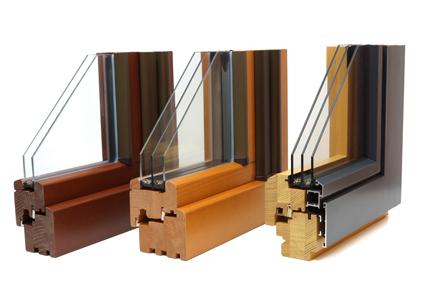 ---
Types of Glass

Energy Efficient Glass (Low-E)
Low-E coatings minimize the amount of ultraviolet and infrared light that passes through glass without compromising the amount of transmitted visible light. The coating is an extremely thin layer of metallic particles that allows the glass to act like a reflector. The result is a home that stays cooler in the summer and warmer in the winter. Low-E glass is not the same as tinted glass.

Tinted Glass
Where as Low-E glass adds a coating of metallic particles to the glass, tinted glass adds the reflective metal particles to the glass itself. It is ideal for climates with excessive sunlight because it reduces the transmittance of light and glare.

Textured/Decorative Glass
Textured glass offers both elegance and privacy. It provides a beautiful way to allow natural light into a room while maintaining privacy. Textured designs diffuses light while delivering artistic impressions to enhance any living space.

Protective Glass
The windows of a home should offer protection from storms, intruders, fire, and loud noises. Impact resistant glass, tempered glass, and sound reducing glass are some smart options that help create safer and better performing windows in a home.
---