Simple Ways to Communciate About Decks that Homeowners Adore
Is there anything more frustrating than a call back? It means more than lost time and reduced profit on a deck project. It signals a costly breakdown in communication that could have been prevented.

Today savvy contractors and remodelers set project expectations early and often. Result? They benefit from a smoother-running project, a happier homeowner, plentiful referrals, winning online reviews, and a sizeable margin at invoice time. All because they followed a few simple guidelines to minimize pesky change orders.

What should you do? Here are 10 contractor-tested steps to consider on your next project:
Lifestyle

How do your customers see themselves using the deck? Do they want to cook, host parties, or just lounge? Cooking involves electrical, gas, and water lines, at additional expense. Interested in using it just for the summer? Or at night? Consider heating and lighting options. If your customers want a deck with multiple functions, traffic flow has to be taken into account.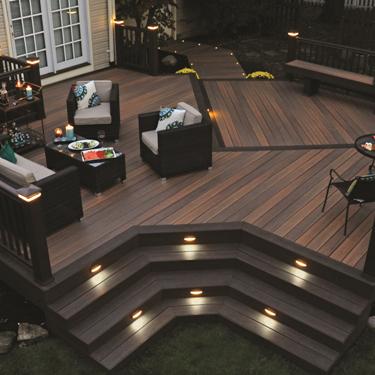 Size

Deck size is directly related to the activities planned. Too large a deck means unwelcome seasonal maintenance for a deck that's only partially used. Kim Katwijk, a deck builder in Olympia, Wash. advises, "If you are going to do a dining area, you have to have at least 10'x10'. That's the minimum. If you can make it two feet larger, then people can walk around the outside. Make sure you have enough square footage. Then worry about form."


Access

Easy access to the deck is paramount for homeowners to get the most out of their outdoor space. If access is difficult, they won't use it as much. If deck access is difficult, you may want to propose a change to the home. Think about enlarging an existing opening to accommodate a sliding door with screens. If the budget and homeowner tastes support it, consider folding glass walls.


Security

Most homeowners expect and desire outside access to an elevated deck with stairs. But be smart. Talk to your clients about security concerns. Locks and alarm sensors may be necessary expense that can be easily overlooked.


Privacy

It's easier—and less expensive—to address privacy by adding a floating wall, arbor, or a pergola to a deck during construction, not afterwards.


Style

Unless a client is dead-set on a particular style, most outdoor spaces look their best when they echo or pay homage to the style and architecture of the existing home.


Decking

Be extra careful here: Make sure you have total buy-in on material selection. Wood needs routine staining to protect boards from cracking and warping. Composite and PVC boards may cost more initially, but they require significantly less maintenance. The math of lifetime cost looks amazingly attractive compared to wood products.


Railing

Built-in railing is the most visible aspect of a deck. There are many easy to install options available that require no painting or staining. If homeowners love the view from their deck, present less-distracting railing alternatives, like wire cable or glass panel railing.


Lighting

What's the lighting strategy? International Residential Code (IRC) 303.7 mandates illumination for outdoor stairs. Task lighting will be necessary for cooking after sundown. When temperatures cool off, heat lamps can warm things up. Rail lights can provide an attractive cool factor guests will admire.

The key to all of this? Talk to your customers. Do your best to understand their point of view. Be a great listener. Their vision and input, coupled with your building expertise, will ensure that each outdoor space you create is an individual masterpiece for its owners.
---