Half Mile of Cracks and Gaps in the Average U.S. Home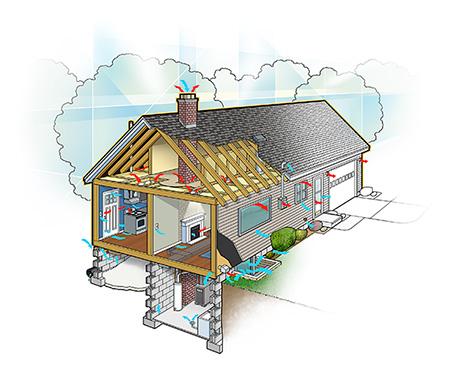 Seal Them All!
Did you know the average U.S. home has a ½ mile of gaps and cracks.1 And according to the U.S. Department of Energy (DOE), random air infiltration through gaps and cracks is the leading cause of energy loss in homes, accounting for 25 to 40 percent of the energy loss in most residential structures.2 Even with wall insulation systems installed, special attention must be paid to sealing these penetrations.
Unfortunately, where there is airflow, there is usually moisture as well. Failure to seal air leaks that will help prevent moisture intrusion can lead to significant damage from mold, mildew, wood decay, fungi growth and infestation of insects and unwanted microbes. Air leaks are not limited to the obvious places – small openings around doors and windows. Other leaks are commonly detected in the gap where the wall sets on the subfloor, the holes where pipes and wires go through wall plates, holes that lead into attics and crawlspaces and the gaps around built-in features, such as fireplaces and medicine cabinets. For an airtight build or existing home, it is important to consider each home as a total system that should be insulated and sealed with integrated system components that include thermal insulation and, where necessary, caulks and sealants.
A host of integrated system components from Dow Building Solutions work together to help protect the home from air and moisture intrusion and thus preserve the structural integrity of the building and overall indoor air quality for the occupants.
Dow Building Solutions offers a variety of spray polyurethane foam options to do just that, including, FROTH-PAK™ Foam Insulation and Sealant Kits and GREAT STUFF PRO™ Insulating Foam Sealants, which feature precision, application, no drip, high yield and 30 day restartability.
1. www.energystar.gov
2. U.S. Department of Energy
®™* Trademark of The Dow Chemical Company ("Dow") or an affiliated company of Dow