Patio Doors
Patio doors can open up a room and extend the living space to the great outdoors. They can deliver stunning views and provide snapshots of delightful memories, but choosing the perfect ones can be tricky. Let's start with the basics and build enough knowledge to build the dreamiest of doors.
Patio Door Styles
Sliding Doors
Being that sliding doors don't swing open, more space is created. Furniture can be positioned closer to the doors allowing maximum utilization of space.
Multi-Slide Doors
Assembled with several individual door panels on a track with rolling hardware, these glass doors create large openings in walls and deliver an aesthetically appealing gateway between indoor and outdoor spaces.
Swinging Doors
Swinging patio doors are hinged and can be ordered to swing in or out. For added design, they can be ordered with sidelights or transom windows.
Folding Doors
Folding patio doors with their accordion design become inconspicuous when folded open, creating a clean and unobstructed view to the outdoors.
---
Patio Door Material
Wood
Wood patio doors provide a wealth of natural beauty. Each species of wood features a range of characteristics offering detailed touches of warmth and elegance.


Vinyl
Vinyl patio doors are constructed from durable plastics and are energy efficient. They don't ever require painting because they don't fade, peel, or rot.


Aluminum
Aluminum patio doors are a lightweight, yet strong alternative to more expensive wood doors. They are corrosion-resistant and offer great performance in many climates.


Fiberglass
Fiberglass patio doors look like genuine wood doors, but are more durable because they do not warp, rot, or fade. The material is ideal to withstand the punishment any climate offers.


Clad-Wood
Clad-wood patio doors are simply wood doors protected with a layer of metal. They require very little maintenance due to the fact that exterior painting or finishing is not necessary.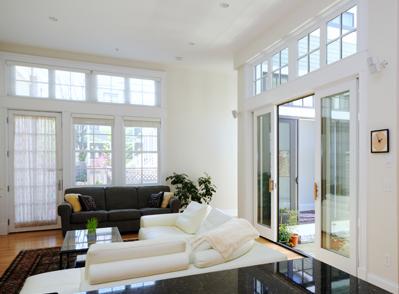 ---
Types of Glass
Energy Efficient Glass (Low-E)
Low-E coatings minimize the amount of ultraviolet and infrared light that passes through glass without compromising the amount of transmitted visible light. The coating is an extremely thin layer of metallic particles that allows the glass to act like a reflector. The result is a home that stays cooler in the summer and warmer in the winter. Low-E glass is not the same as tinted glass.
Tinted Glass
Where as Low-E glass adds a coating of metallic particles to the glass, tinted glass adds the reflective metal particles to the glass itself. It is ideal for climates with excessive sunlight because it reduces the transmittance of light and glare.
Protective Glass
The windows of a home should offer protection from storms, intruders, fire, and loud noises. Impact resistant glass, tempered glass, and sound reducing glass are some smart options that help create safer and better performing windows in a home.
---