Green Building
Working Hard to Build a Greener Planet
BMC is a proud member of the Green Building Council. We don't just want to provide materials for family homes and buildings, we want to do it in a way that will nurture the environment and make the world more pleasant for generations to come. It all starts with a conscientious focus on partnerships. We actively seek out relationships with organizations that strive to create more sustainable products while following responsible practices. Our own operating methods are growing greener each day, from thorough recycling efforts to non-idling vehicles, we are committed to being key players on the planet earth green team.
---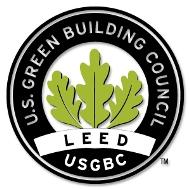 LEED the Way
LEED, or Leadership in Energy & Environmental Design, is a green building certification program that recognizes best-in-class building strategies and practices. To receive LEED certification, building projects satisfy prerequisites and earn points to achieve different levels of certification. LEED certified buildings save money and resources and have a positive impact on the health of occupants, while promoting renewable, clean energy.
---
The Writing is on the Non-Load-Bearing Wall
Going green shouldn't just be an alternative anymore. It should be the normal standard of operation. Here are just a few reasons that should inspire us all to join the movement:
Environment

- Green initiatives will reduce waste, conserve natural resources, improve water and air quality, and protect ecosystems.

Savings

- Green materials and practices reduce energy consumption, which in turn, reduce energy bills.

Health

- Sustainable design enhances our overall quality of life by improving air and water quality, and reducing noise pollution.
---
Contributing to Green Building Design
How to build green – Working with U.S. Green Building Council and LEED®. Download PDF
Green Builder®—Most Sustainable Siding Products
James Hardie® siding is composed of natural and sustainable raw materials. Download PDF
Boise Cascade Green Building
Boise Cascade begins with wood fiber, a renewable resource used to make engineered wood products. Download PDF