Expand Your Living Space and Maximize Your Investment with JELD-WEN®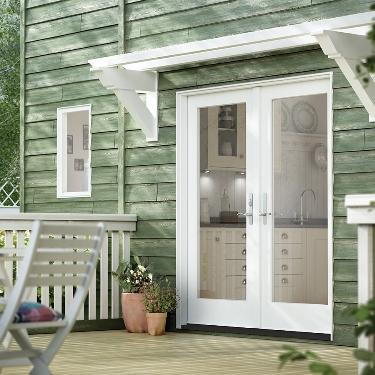 As the weather warms and the days get longer, people want to spend more time outdoors. One way of maximizing that desire is through areas that blend the views and scenery of the outdoors with the comforts typically found inside homes. A Jeld-Wen Siteline® Wood & Clad-Wood Swinging Patio Door is an ideal way of extending the floor space of a patio, porch, or lanai, turning a simple morning cup of coffee or an afternoon barbecue with friends into an event.
This swinging patio door system offers more than 300 configurations, offers the performance you have come to expect from JELD-WEN, and expands the square footage of a home at a comfortable price. Indoor-outdoor living has been a growing trend, incorporating high-end features like wireless audio and video, ovens, and installed seating. How far you go is your decision, but nothing can happen without that first step in bridging the two spaces.
Many homeowners take great pride in their yards and log tremendous hours in beautification and maintenance. A swinging patio door is an ideal way of both framing your handiwork for viewing from indoors and as a gateway to enjoying it up close. But it's more than an aesthetic feature. These doors are engineered for the long-term with a critical eye focused on the basics.
Made from AuraLast® Wood, they provide lasting protection against rot and termites. The continuous fiberglass sill acts as a thermal barrier that pays dividends year-round. The weather stripping stands up to hurricane-force winds and the equivalent of eight-inch-per-hour storms. In short, these patio doors are as heavy-duty as they are beautiful.
These swinging patio doors represent the next generation in the product line and they are being introduced as homeowners look for ways of maximizing their investment. With hundreds of design options and multiple configurations, Siteline swinging patio doors can accommodate almost any opening. Add to that dozens of hardware choices and beautiful decorative glass options, and this becomes more an art piece than a door, one that not only adds to the value of your home but to the enjoyment of your life.