Choosing the Decking Material that's Right for You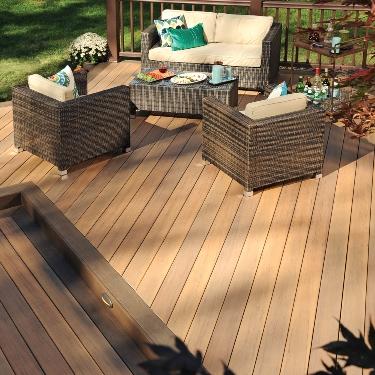 Once you finish designing your dream deck, one of the first choices you face is deciding what type of decking material to use. Not only do you want to think about which color best matches your home, but you'll want to choose a material that fits your lifestyle. Here we'll highlight the most common options as well as some of the advantages of each type. Then it's up to you to choose the product that you can live with and that fits your budget.
Keep in mind that it is also important when making any decision about decking to consider the installation costs as well as the annual maintenance costs. Building a deck is more than just what material is on the surface. Think about labor costs, under-structure expenses, and even annual maintenance costs to determine the full investment in your new outdoor space.
Lastly, the design of your deck may impact the material you choose to use. Many of the non-wood decking materials can be curved and bent for unique and artistic deck designs. This flexibility expands the design possibilities into areas that would never be practical to consider with wood. If you are into curves, then a non-wood product might be the best fit. For a traditional deck, wood might be just fine.
Let's look at common decking surface material options:
WOOD
With the dawn of the outdoor living craze decades ago, homeowners turned to traditional wood for decking because it was readily available and other options didn't exist. Wood is still the most common material used for deck surfaces—normally redwood, cedar or treated southern yellow pine—with available options and pricing varying by geographic region. The character and appeal of a wood deck continues to attract many traditionalists; though the regular maintenance that's required of wood decking, such as staining and sealing, may make some homeowners wary. If you can upgrade to tropical or premium grade decking lumber, i.e., ipe, teak, etc., some of the maintenance concerns may be minimized, but using a low-grade lumber for decking may mean you'll be making annual repairs before you can invite the neighbors over for the first picnic of the year. Wood products do not typically come with a product warranty, though a contractor may provide a warranty for their work.
COMPOSITE DECKING
More than 2 decades, composite decking was developed by combining plastic with wood fibers to create a deck board that would be more resistant to the outdoor elements. The initial claims were that composite decking would solve all wood decking woes. While that is somewhat true, there are no splinters and no yearly sealing, staining or painting that a wood deck may require; composite decking is usually more expensive and not as easily available as wood decking. On the positive side, composite decking comes in a variety of colors and surface textures to offer more choices to the homeowners who want to personalize their outdoor space. For the value conscious buyer who wants a low maintenance deck, composites can be a very good, practical choice. They offer all the benefits of rot-, decay- and insect resistance while providing a low maintenance deck board. Composite decking options may carry a product warranty for residential applications up to 25 years.
CAPPED COMPOSITE DECKING
Several years ago, composite decking manufacturers challenged themselves to take a good product like composite decking and make it even better. The result? Capped Composite Decking. With a capped composite, a protective cap is added around the core of traditional composite decking. This takes the board's performance to a whole new level and elevates outdoor living by offering enhanced scratch, stain and fade resistance properties. One of the other advantages of capped composites is the ability to produce a surface that mimics real wood—from the warmth of tropical hardwoods to the look of hand-scraped indoor flooring. Available in a variety of price points to increase market appeal, capped composites offer high end looks with superior performance. Capped composite products usually carry warranties for residential applications up to 25 years.
CELLULAR PVC DECKING
Nearly a decade ago, technology that was being used for cellular pvc trim was modified to create the category of cellular pvc decking. Cellular pvc decking, which contains no wood fiber at all, is lighter in weight than wood with excellent workability and durability. It answers the need for low maintenance decking (no rotting, splitting, cracking, and chipping, etc.) along with offering stain- and scratch- resistance. Cellular pvc decking also comes in the widest variety of colors and surface textures. Despite some of these options on the higher end of the cost spectrum, cellular pvc decking is actually available in a variety of price points. This range of prices allows it to be considered across many budget ranges – especially considering the lifetime warranty that comes without the need for ongoing yearly maintenance.
Product warranties for cellular pvc decking vary 25 years to limited lifetime for residential applications.
---