A Game-Changer in Looks and Style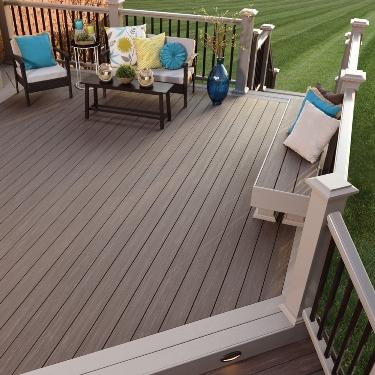 Capped PVC Decking Redefined by AZEK Deck's New Vintage Collection
When the AZEK Deck design team was searching for the next generation of realistic, natural looking capped pvc decking, they did their homework. Armed with years of study and assorted product samples, they conducted extensive consumer research with groups of homeowners across the country. Those homeowners gave rave reviews to the new Vintage Collection and the team knew they had a winner with the collection's rich colors and classic style.
A true game-changer within the capped PVC decking category, the Vintage Collection's unprecedented natural, classic looks are designed to completely reinvent the category of low maintenance PVC decking. But you really have to see it to appreciate it!
The Vintage Collection features the definitive look of freshly stained wood, but let's you skip the work because these boards don't require stain to maintain their beauty. AZEK Deck's three natural shades in the Vintage Collection are: Mahogany, a mid-brown with hints of red and dark streaking; Cypress, a light, sunny, reddish hue; and Dark Hickory, a deep, rich gray with lighter streaking. Like fine aged wine, the rich looks of the Vintage Collection offer broad appeal, while the low-maintenance performance characteristics are second to none. With this introduction, the AZEK Deck Vintage Collection clearly represents the next evolution in capped PVC decking.
Other AZEK Deck Collections include Harvest, Terra and Arbor, XLM Natural and XLM Tropical. The six collections offer a full range of colors, streaking variations, and surface textures so there is a choice to suit every taste and style.