Andersen & Energy Efficiency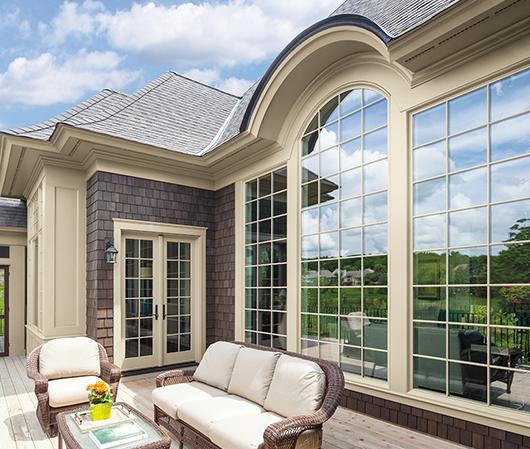 You hear a lot about making your home more energy efficient—how it can help to reduce high energy bills, improve comfort and help to protect the environment. But what does it all mean if you're replacing or remodeling your home's windows, or building a new home? For starters, let's look at the label.
NFRC Label
For a quick, accurate way to compare the energy efficiency of windows and doors, look for the National Fenestration Rating Council (NFRC) energy performance label. The NFRC label helps you determine how well a product will perform the functions of helping to cool your home in the summer, warm it in the winter, keep out wind, and resist condensation. By using the information contained on the label, you can reliably compare one product to another, while making informed decisions about what windows and doors to buy.
In 2005, the NFRC adopted a new energy performance label that lists the manufacturer, describes the product, provides a source for additional information, and includes ratings for one or more energy performance characteristics.
All Andersen window and door products include the following NFRC energy performance ratings:
U-Factor
The U-Factor indicates how well a product prevents heat from escaping. The lower the U-factor (U-Value), the greater a window's resistance to heat flow and the better its insulating value.
Solar Heat Gain Coefficient
Solar Heat Gain Coefficient (SHGC) measures how well a product blocks heat caused by sunlight, and is expressed as a number between 0 and 1. The lower a window's solar heat gain coefficient, the less solar heat it transmits in the house. Simply put: the lower the number, the better.
Visible Transmittance
Visible transmittance (VT) refers to how much visible light comes through a product. The VT is an optical property that indicates the amount of visible light transmitted, and is expressed as a number between 0 and 1. The higher the VT, the more light is transmitted; or, the higher the number, the better.
ENERGY STAR
The ENERGY STAR service mark is an international standard for energy efficient consumer products that originated in the United States. It was created in 1992 during the Clinton Administration by the Environmental Protection Agency and the Department of Energy. Devices carrying the ENERGY STAR service mark, such as computer products and peripherals, kitchen appliances, windows and doors, generally use 20 to 30 percent less energy than required by federal standards.
Look for products that qualify for ENERGY STAR in your climate zone. It's not the only way to determine energy efficiency, but it's a very good start.
ENERGY STAR qualified windows and doors can reduce your energy bills up to 15 percent, while helping protect the environment. For information on buying and installing the right window and door product, how they will perform in your climate, or how to install them to maximize your energy savings, visit the ENERGY STAR website.
Replace, Remodel or Build with Energy Efficiency
At Andersen, we take saving energy seriously. Whether you're replacing, remodeling or building, whether you do-it-yourself or hire a qualified professional, improving energy efficiency is an important first step for homeowners interested in "going green."
When considering energy efficiency in high-performance home design, look at the lot orientation and climate zone. Nine times out of ten, the home's position is fixed due to the views, drive-up, walkway, and of course setback limitations and neighborhood realities. But often it's possible to position the home with consideration to the sun's path, taking advantage of heat-gain or heat-loss, as needed. In any case, it's important to design the home to have overhangs sized for appropriate shading. Two-foot overhangs are often standard on high-performance home designs, but three-foot or even deeper overhangs are often recommended, especially where there are large expanses of glass such as patios, porches and lanais.
Sustainability
When it comes to sustainability, there's nothing sustainable or green about a product that fails to perform and has to be replaced. What is most important is durability or finding products that will last. From energy efficiency and durability to low maintenance, Andersen designs and builds windows and doors that are among the best-performing products in the industry. It's been that way for more than a hundred years, and Andersen is committed to constant innovation as well as rigorous testing of performance and quality to make sure we continue setting the highest possible bar for performance. That's why peace of mind comes standard on all Andersen windows and doors.
In terms of energy efficiency, window and door quality ranks at the top of any "green" or "high performance" list of priorities. Consider the fact that upwards of 20 percent of a home's energy loss can be through sub-par doors and windows. As a consumer, you become more aware of how a window's energy performance rating affects real energy usage and the true cost of home ownership. So as energy prices rise, doing it right the first time results in real savings.
Improving Your View
Respect for the environment is nothing new to Andersen. That goes for the energy efficiency of the windows and doors we make and also for our manufacturing processes that produce them. Our practice of recycling and reclaiming materials began simple because it was good business. Now it's part of our effort to promote sustainability and responsible stewardship of all resources. At Andersen, we believe in providing you with innovative, long-lasting, energy-efficient windows and doors while supporting the environmental. For more than a century, it's been part of who we are.