The Anatomy of an Entry System
An entry system features many parts. Understanding each component and its function is integral to constructing the perfect doorway that delivers a stunning first impression.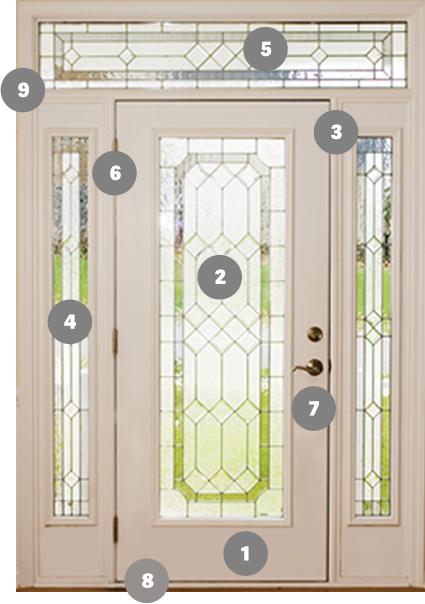 1 - DOOR SLAB


The door slab is simply the door itself with no framing or hardware. Being the core of the doorway's personality, its design can be simple or intricate to offer the desired statement. It is also the ideal starting point in constructing a brilliant entry system.



2 - DOOR GLASS


The glass of an entry system is usually clear, textured, or beveled. It is generally constructed in a stylized design and held together with metal caming. Door glass can be used on the door, sidelight, or transom, and offers a beautiful avenue of expression in doorway creativity.



3 - FRAME


The frame of an entry system is attached to the rough opening while surrounding and supporting the door. Its assembly is integral in allowing for an easy installation of door components. Typically, carpenters only use the straightest pieces of lumber to construct the frame.



4 - SIDELIGHT


Sidelights are glass panels installed on one or both sides of a door. Sidelights provide natural light at a door's entrance area. They also flash decorative appeal to enhance the appearance of an entry door.



5 - TRANSOM


A transom is a horizontal section, usually designed with decorative glass, positioned right above the entry system. An added transom will undoubtedly add more glam to a doorway and improve curb appeal.



6 - HINGES


Hinges are metal plates with a cylindrical pins, which attach to a door and door frame (typically with screws), and allow doors to swing within the frame. Hinges are more than functioning hardware. They can be elegant accents of style that elevate the appearance of any entry system.



7 - LOCKSET


A lockset is essentially the components and hardware that makes up the locking mechanism of a door. Being that there are hundreds of styles and finishes, locksets offer another great opportunity for homeowners to express their own personal tastes.



8 - SILL


A sill is the horizontal lower part of a door frame that rests on the floor. It is generally viewed as the section that completes the door frame.



9 - CASING


The trim covering where the wall meets the door jamb, usually installed on both sides of the door opening.
---
Entry System Components
Entry door components are the sections that make up an entry system. Components are doors, sidelights, and/or transoms. Each component can work separately or together to create a captivating eyeful.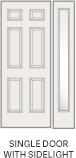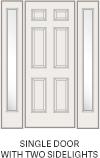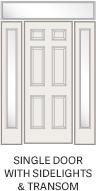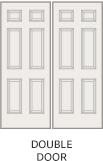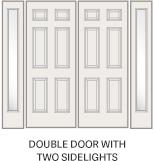 Panel Styles
Doors are available in many different panel styles. Panels are sections crafted in the door slab. These sections could also be crafted with glass, also known as lights. The right door provides security while adding value to a home.
















Door Glass
Decorative door glass comes in many different glass styles, designs, and colors. It has the capability to brighten an entryway without compromising privacy while punctuating the allure of a home.







---